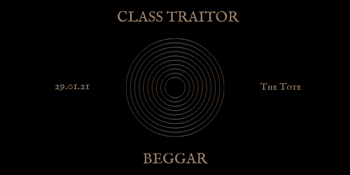 Beggar w Class Traitor LATE Show
The Tote - Upstairs (Collingwood, VIC)
Friday, 29 January 2021 9:30 PM
SECOND SHOW ANNOUNCED
Come and celebrate or despair at the return of heavy shows with Beggar and Class Traitor with a LATE show upstairs at The Tote.
BEGGAR (members of Cordell, Munt, Gjöll, Class Traitor, and Yantra) are bringing their hammering doom out of lockdown, tunnelling further into the depths of hypnotic subconscious. Rebirth through repeating walls of noise.
CLASS TRAITOR (members of Munt, Bøg, Religious Observance, Beggar) have been writhing in dark corners through the pandemic and are now ready to birth their cathartic sludge. First show!
Late show doors: 9.30 pm
Presale tix: $10 (+BF)
Door tix: $15
Beggar
https://www.facebook.com/Beggardoom
Class Traitor
https://www.facebook.com/clsstrtr
This show will take place on Wurundjeri land.
Covid-Safe event. Restrictions apply to keep customers, staff and performers safe. You can find advice and more information on current restrictions by visiting Arts and recreation services sector guidance.