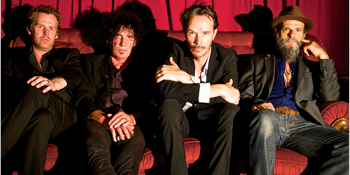 Hugo Race and the True Spirit & The Frees - The Tote Bandroom
The Frees
The Tote - Band Room (Collingwood, VIC)
Saturday, 10 July 2021 9:00 pm
Hugo Race is a prolific and visionary performer. A founding member of Nick Cave's Bad Seeds and the seminal Australian 80s cult band The Wreckery, Hugo has released 20 albums and collaborated with artists from Sao Paolo to Rome, Berlin, London, Tucson, Brussels, Warsaw, Mali, Africa and beyond. Born in Melbourne, Hugo has spent most of the last 25 years living in Italy, France, Germany, UK and the USA.
Hugo has recently released his 15th album with The True Spirit, a band he formed in Berlin as the Wall fell, a thirty-year collaboration. Recorded during Australia's black bushfire summer and mixed as the pandemic hit, Star Birth / Star Death reflects a sense of sudden endings and new beginnings which Race felt as he witnessed the explosion of a bright star one oceanic night - "when the stars align it all makes sense" - he explains.
The True Spirit - Hugo, Michelangelo Russo, Brett Poliness & Bryan Colechin - are a formidable live act honed by long European tours, a mix of rock psychedelia, roots folk, electronica, spontaneous improvisation and the kind of band telepathy that takes decades to master.