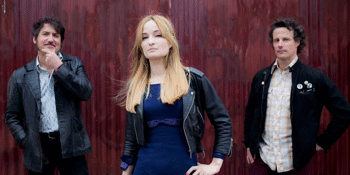 River of Snakes Album Launch Late show
Green Blanket
The Tote - Band Room (Collingwood, VIC)
Saturday, 6 February 2021 8:30 PM
River of Snakes launch their album "Sleight of Hand" with support Green Blanket.
River of Snakes couldn't hold on to their second album any longer and after a mid lockdown release online this August, they are itching to launch and play the hell out of "Sleight of Hand" LIVE! After a decade of sweating it out all over the country, this trio has a solid reputation for fierce live shows and this will be no exception.
River of Snakes will be joined by the off-kilter-noise-rockers from the south coast Green Blanket!
See ya when we're lookin' at ya!
Tickets $15 PBF
Saturday 6 February
Limited tix / Doors 8.30pm
River of Snakes
Facebook
Covid-Safe event. Restrictions apply to keep customers, staff and performers safe. You can find advice and more information on current restrictions by visiting Arts and recreation services sector guidance.