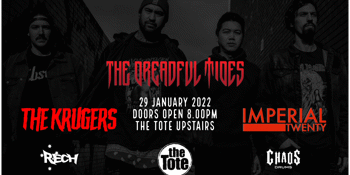 CANCELLED - The Dreadful Tides with The Krugers, and Imperial Twenty
The Tote - Upstairs (Collingwood, VIC)
Saturday, 29 January 2022 9:00 PM
Melbourne hard rock outfit The Dreadful Tides have achieved a great deal through the chaos of the Last year.
Born inside the residual embers of the never ending lockdowns, TDT have proven to be contenders in the modern day rock scene.
Debuting with their first single Crazy, TDT made the statement that they are hear to stay. Proving this to be sure with there second single release House Of Pain in November this year. Both tracks bringing there unique individuality on a time proven genre.