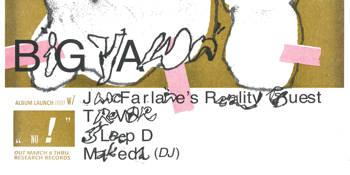 Research Records presents
POSTPONED - Big Yawn 'No!' Album Launch
with J. McFarlane's Reality Guest, Sleep D,  Trevor & DJ Makeda
The Tote - Band Room (Collingwood, VIC)
Fri 20 March - Thu 1 October 2020 8:00 pm
𝙍𝙀𝙎𝙀𝘼𝙍𝘾𝙃 𝙍𝙀𝘾𝙊𝙍𝘿𝙎 𝙋𝙍𝙀𝙎𝙀𝙉𝙏 𝘽𝙄𝙂 𝙔𝘼𝙒𝙉 𝙇𝙄𝙑𝙀 𝘼𝙏 𝙏𝙃𝙀 𝙏𝙊𝙏𝙀 𝙄𝙉 𝘾𝙀𝙇𝙀𝘽𝙍𝘼𝙏𝙄𝙊𝙉 𝙊𝙁 𝙏𝙃𝙀𝙄𝙍 𝙁𝙄𝙍𝙎𝙏 𝙁𝙐𝙇𝙇-𝙇𝙀𝙉𝙂𝙏𝙃 𝘼𝙇𝘽𝙐𝙈 '𝙉𝙊!'

Primarily rooted in a live performance approach, the Melbourne quartet embrace sonic curios from far-flung corners of the globe and display them with pride. Affectations for vintage krautrock, esoteric percussion, and experiments in steady dance grooves merge with heavy low end frequencies to 'explore and exploit' those in-between spaces.

Championing a hybrid vision of cross-genre harmony, their music manages to capture the sweaty spirit of DIY basement shows as much as it works on record. Encompassing disorientating dub FX, off-kilter synth squelches and live re-sampling, their stoned meanderings mix with grinding propulsion.

𝙇𝙄𝙑𝙀 𝙋𝙀𝙍𝙁𝙊𝙍𝙈𝘼𝙉𝘾𝙀𝙎 𝘽𝙔
J. McFarlane's Reality Guest
Sleep D
Trevor

𝘿𝙅
Makeda

𝙇𝙄𝙂𝙃𝙏𝙄𝙉𝙂 𝘼𝙉𝘿 𝙑𝙄𝙎𝙐𝘼𝙇𝙎
Rhys Newling - Video Artist

LP's and merchandise available on the night.