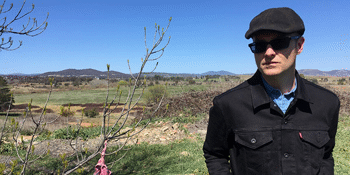 John Sharkey III Album Launch + Lower Plenty
The Tote - Upstairs (Collingwood, VIC)
Friday, 12 March 2021 9:30 PM
John Sharkey III launches new album "Shoot Out The Cameras" at The Tote!
Album launch for
Shoot Out The Cameras
by
John Sharkey III
(Philly-born, Canberra-based, ex-Clockcleaner and onetime Tote staffer!), with support from Lower Plenty. Having moved his family from Philadelphia to Canberra just before last summer's devastating bushfires and the pandemic, Sharkey's solo debut hones in on the existential dread of living in a burning world, and the imperative to find beauty and optimism in what remains.
Shoot Out The Cameras
is out March 5 on Mistletone Records.