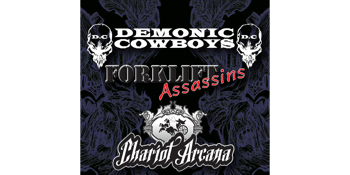 Play it Loud OK!
The Tote - Upstairs (Collingwood, VIC)
Friday, 4 June 2021 8:30 pm
You like it fast? You like it LOUD? Well come to The Tote upstairs on June 4 th for a rip-
roaring, ear blasting, rockin' good time. Annihilating your eardrums will be the metal, funk,
psyche crossover that is Chariot Arcana. They're here for a good time not a long time so get
in early to get in good. Next up, dirty rock maestros (and we use that term very loosely)
Forklift Assassins. Fast, balls to the wall rock. Think Motorhead on speed. Finally, Demonic
Cowboys will yee-haw their way into your brain via their thrash shreddage. You'll be
screaming for more by the time they're done with you.
Doors open at xpm and $10 pre-sale tickets available at xxxxxxxx. Altenatively, $15 at the
door.