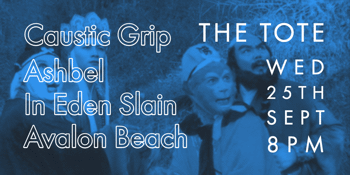 Caustic Grip, Ashbel, In Eden Slain & Avalon Beach
The Tote - Band Room (Collingwood, VIC)
Wednesday, 25 September 2019 7:30 PM
"Our own demons are often the hardest to recognise."

10:30 Caustic Grip -- Dark EBM/Industrial project of Scud (from Deader)
9:40 Ashbel -- Post-Black Metal, Noise and tragic soundtracks to purge positive///negative transference away
8:40 In Eden Slain -- Neoclassical infused Doom Death
8:00 Avalon Beach -- Slow burn ceremonial tunes where No Wave meets deep Psych
7:30 $10 entry

This event is a safe space. Sexism, racism, homophobia, transphobia, ableism or discriminatory behaviour of any nature is unacceptable and have no place at this event.
We acknowledge this event takes place on the stolen land of the Wurundjeri people of the Kulin Nation. We pay our respects to elders past, present and long into the future. Sovereignty was never ceded.