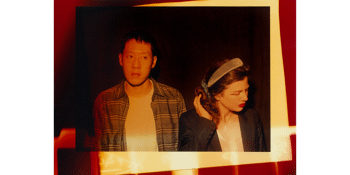 ** SECOND SHOW ADDED** HTRK 'Death Is a Dream' - Album Launch at the Tote
The Tote - Band Room (Collingwood, VIC)
Friday, 26 August 2022 8:30 pm
Death Is a Dream offers an intriguing glimpse behind the veil of HTRK's celebrated 2021 album, Rhinestones, by collecting 10 demos, vignettes, and sketches from the album's genesis. Hearing the songs in a starker state illuminates just how striking and durable these arrangements are – like lost highway jukebox standards, the melodies radiate spectral heartbreak in nearly any key or tempo. Many of these versions come tethered to a percussive pulse, giving them even more of a loping, lonesome feel, softly swaying in a private wilderness.

Few groups in history, recent or otherwise, elevate mood to such singular, smoldering supremacy as the Australian duo of Jonnine Standish and Nigel Yang aka HTRK ['Hate Rock']. Across nearly two decades of work, wounds (co-founder Sean Stewart tragically took his own life in 2010), and world tours, their sound has shape-shifted between densities and intensities, noise and nakedness, but never wavered in its delicate poetic gravity. Theirs is a chemistry of smoke, echo, and the undertows of desire, the dislocation of cities and memory, the melancholy of distance and deepening night. It's music of solitude and sensuality, for small hours and lost weekends, spoken in an intimate shadowplay language of skeletal electronics, velvet voice, and noir guitar.

HTRK's albums have been released by an array of international labels including Fire (Nostalgia), Blast First Petite (Marry Me Tonight), Boomkat Editions (Over The Rainbow), and Ghostly International (Psychic 9-5 Club, Venus In Leo). For the occasion of their most recent full-length, the celebrated slowburn suite Rhinestones, they founded their own artist imprint, N&J Blueberries. In the live setting they transform spectral torch songs into quiet storms of tension, texture, and transcendence.