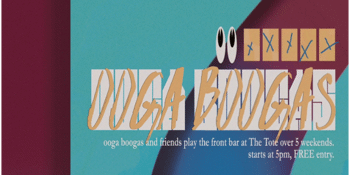 Aarght Records Presents
Ooga Boogas and Friends
with J. McFarlane's Reality Guest
The Tote - Front Bar (Collingwood, VIC)
Sunday, 29 September 2019 4:00 pm
Starting on Father's day at the Dad-friendly time of 5pm, Ooga Boogas will be pulling up our bar stools and gently massaging some relaxed grooves in the confines of The Tote's front bar. We've carefully chosen very chilled friends to join us over the five weekends.

Sun 1 Sept - The Opals
Sun 8 Sept - Alex Macfarlane
Sun 15 Sept - Callan
Sun 22 Sept - H.R.
Sun 29 Sept - J. McFarlane's Reality Guest

Supports play at 5, we play at 6. Do come along.