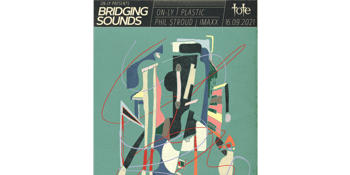 On-Ly, Plastic & Phil Stroud + IMAXX [DJ]
The Tote - Band Room (Collingwood, VIC)
Thursday, 16 September 2021 8:30 pm
Bridging Sounds connects communities and disparities. Likeminded in not necessarily so much as a way across.
On-Ly, Plastic & Phil Stroud + IMAXX [DJ]
leading the first crossing..
On-Ly hark back to the 70's and lunge into the 20's fusing the funky and the psychedelic with punchy arrangements and free-form groove.
Plastic blend and distort synthy-rock with mindful-harmonies texturing their arrangements with dusty rhythms and dissonance.
Phil Stroud Trio transport the listener with music akin to alliteration and transcendental-vibration, underscored by slapping groove and energetic jazz-fusion.
IMAXX providing the connective tissue all night long with her selections from the spectrums.