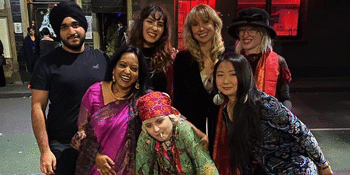 SPAWN + Filth Dimension
+ VVARP
The Tote - Band Room (Collingwood, VIC)
Sunday, 25 April 2021 5:00 pm
Originally formed in 2016 as a doom-metal outfit,
SPAWN
has been reborn in 2019 through mutual worship of late '60s counter-culture and rose-tinted, love spiked '70s grooves. SPAWN's live performance is spellbinding. A combination of hypnotic drumming, eastern-influenced guitar/sitar melodies and compelling deliveries from four vocalists make SPAWN a flowing, graceful immersion. SPAWN has birthed a unique sound that equally represents the old world and the new.
Joining SPAWN are garage punk rockers
FILTH DIMENSION
, who burst on to the scene in 2019 and have been going from strength to strength with their high energy live show and unique, fusion songwriting style. Filth Dimension is releasing their new single this April for the Tote show.
Also playing on the night are
VVARP
.