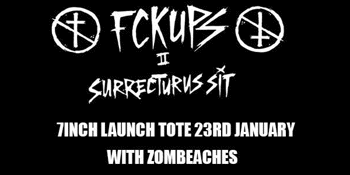 The FckUps 7" Launch w Zombeaches Late Show
The Tote - Band Room (Collingwood, VIC)
Saturday, 23 January 2021 9:00 pm
The FckUps and Zombeaches return to The Tote with a 7" single to boot!
(Yes we know it's called "Ride The Sickness" but we promise we wrote it waaaaaay before the whole Covid thing we would never dream of writing a song to cash in off the rolling crapshow that was 2020 BUT FORGET ALL THAT NONSENSE WE'RE BACK AT THE TOTE!!)
And Zombeaches are in on it too. With their recently released debut album "Cheers To The Future" now rocketing up the proverbials Zombeaches are on point and ready to bring it to The Tote main stage.
Presales $20+BF
Doors $25
Limited tickets!

The FckUps facebook.com/TheFckups
Zombeaches facebook.com/zombeachess

Covid-Safe event. Restrictions apply to keep customers, staff and performers safe. You can find advice and more information on current restrictions by visiting Arts and recreation services sector guidance.