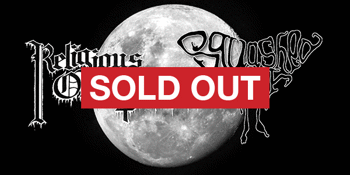 Religious Observance w Squashed Moth Late Show
The Tote - Upstairs (Collingwood, VIC)
Friday, 22 January 2021 9:30 pm
Religious Observance play their first gig out of lockdown, sharing the night with Squashed Moth, who will be playing live for the first time that night.
Religious Observance will be unleashing their crushing sludge noise that we all know and love. They are joined by Squashed Moth, a queer doom project featuring crushing bass, ethereal violin, guttural vocals, and grievous drums.
Late show doors: 9.30 pm
Presale tix: $10+BF
Door tix: $15
Religious Observance
https://www.facebook.com/religiousobservance/
Squashed Moth
https://www.facebook.com/squashedmoth/
We respectfully acknowledge the Wurundjeri People of the Kulin Nation on whose land this show will be held. We pay our respects to elders past, present and emerging. We acknowledge their continued rich culture and spiritual connections to Country. We recognise the past atrocities against Aboriginal and Torres Strait Islander peoples of this land and that Australia was founded on the genocide and dispossession of First Nations people and we are sorry. We acknowledge the colonial structures that remain in place today and recognise the ongoing struggles of First Nations people in dismantling those structures. We accept that acknowledgement of this nation's dark past is critical for the achievement of restorative justice.
Covid-Safe event. Restrictions apply to keep customers, staff and performers safe.  You can find advice and more information on current restrictions by visiting
Arts and recreation services sector guidance
.