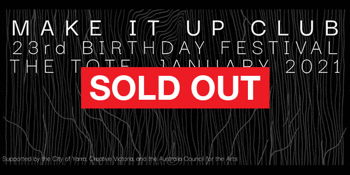 Make It Up Club 23rd Anniversary Festival – Week 3
The Tote (Collingwood, VIC)
Tuesday, 19 January 2021 8:00 PM
The Make It Up Club 23rd Anniversary Festival marks a return to IRL events for Melbourne's internationally renowned concert series, dedicated to avant-garde improvised sound performance since 1998, and will be taking place at The Tote over three Tuesday nights in January.

January 19 is co-curated by MESS: Melbourne Electronic Sound Studio and will feature Nina Buchanan/ Mat Watson/ Romy Fox, Aarti Jadu, Bonnie Mercer/ Todd Anderson-Kunert/ Karina Utomo, The Narcoleptor + V. Plus a special guest DJ between each set.

Doors: 8.00 pm
Presales: $10 (+BF)

Make It Up Club facebook.com/makeitupclub

The Make It Up Club is supported by Creative Victoria, City of Yarra and the Australia Council for the Arts.

This event is being held on stolen land. We pay our respects to elders past, present, and emerging, and we acknowledge that sovereignty has never been ceded. MIUC supports paying the rent by donating a portion of all proceeds each week to WAR, the Warriors of Aboriginal Resistance.