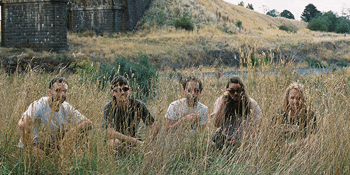 Picket Palace
+ Danika Smith
The Tote - Band Room (Collingwood, VIC)
Sunday, 7 March 2021 6:00 pm
Due to Victoria's stage-four lockdown announcement, PICKET PALACE have rescheduled their 13 February early and late shows to SUNDAY 7 MARCH, with a SINGLE SHOW of most epic proportions!

Tickets purchased on preorder for PICKET PALACE postponed early and late shows VALID for this event. Doors at 6.00 pm.

LIMITED TIX AVAILABLE.
PREPARE FOR THE RUCKUS!

Picket Palace is finally back! It's been almost a year to the day since they last took to the stage, but Friday 12 Feb will be their first-ever appearance at the Tote, and the perfect forum to see them finally launch the two singles they released during last year's lockdown ('No Fun Intended' in March and 'All About the Money' in October) as well as a whole swag of other delicious new material.

They're itching to get back at it. Buckle up!

Opening for Picket Palace will be the sublime Danika Smith.