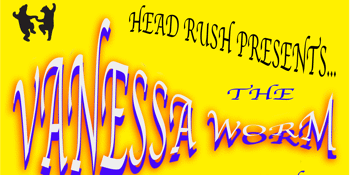 Head Rush Presents
POSTPONED - Head Rush Presents: The Vanessa Worm Experience
with Otologic, DJ Chrysalis, River Yarra & River Burns
The Tote - Band Room (Collingwood, VIC)
Fri 27 March - Thu 1 October 2020 8:00 pm
Head Rush Presents: The Vanessa Worm Experience | LIVE @ The Tote.

With support from River Yarra and DJ Chrysalis both playing LIVE and the mighty DJs Otologic & Eden Burns... This night has been curated to bring light, love & joy to all your hearts and minds ☆ ☆ ☆

After appearances at Meredith Music Festival, Animals Dancing NYD & other shows throughout AUS/NZ, Vanessa has begun curating a NEW show for us all.. Magical & Mind Bending this will be an experience worth visiting.
1:00am Otologic
12:00am Vanessa Worm
11:00pm DJ Chrysalis
10:00pm River Yarra
8:00pm Eden Burns
8:00pm doors