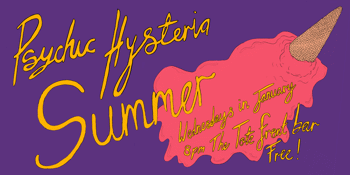 Psychic Hysteria presents
Psychic Hysteria Summer
with Plaster of Paris, Way Shit & Possessed Mum
The Tote - Front Bar (Collingwood, VIC)
Wednesday, 23 January 2019 7:00 PM
Join us in The Tote front bar Wednesdays in January - it's Psychic Hysteria Summer, and it's FREE! We got together with our mates Jungle Cuffs to put together an amazing cross-section of Melbourne acts, all of which go perfectly with icey cold beer.

WED 23
9:00 Plaster of Paris
8:00 Way Shit
7:00 Possessed Mum

WED 30
9:00 Jungle Cuffs
8:00 Bad Bangs
7:00 Uva Ursi

Poster by Kalindy Williams @ Orbit Arcade!