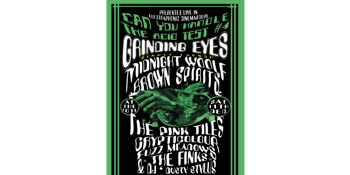 Can You Handle the Acid Test Number 4
The Tote - Band Room (Collingwood, VIC)
Saturday, 11 December 2021 5:00 PM
Can You Handle the Acid Test Number 4 returns taking over the Tote with exploding visuals in electraphonic cinemascope.
> > Saturday 11th December < <
This post pandemic sonic party is the Acid Test..
Riding High Sydney's Grinding Eyes immerse you in transcendent walls of sound and colour. You'll also be treated to Midnight Woolf's hip shaking garage overtones...
Brown Spirits join the bill and their amazing Kraut-laden psych rock jams.
The line up also includes Pink Tiles's and their increbable evil bubble gum garage – they can make tunes you don't forget. The amazing Crypticolour will be moving you in a sidewards with their unique blend of dark blues psych..
And the fuzz drenched vibes that is Fuzz Meadows will leave you wanting more. The Finks jangly ambient movie soundtrack will tune you on.
It doesn't stop there because the all vinyl shaking DJ Dusty Stylus has a soundtrack that encapsulates your lost dreams.

All topped off by the always mind blowing / visualing inhandsing - UFO trafficking, ELECTRIC LIGHT BRIGADE..
Tickets will sell FAST
- first in best dressed.