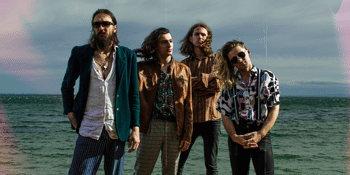 Zen Monkee w Gerard Holmes Shout Out Show
The Tote (Collingwood, VIC)
Saturday, 23 January 2021 3:30 pm
Blues-rockers Zen Monkee is primed to play a Shout Out Show in the Barter Town beer garden at The Tote.
Melbourne blues-rockers Zen Monkee (Chris Beltrame, Anthony Beltrame, Aidan Buckley, Harrison Leitch) write music from another era. Excavating the fuzzed-out sensibilities that '60s blues-rock titans Cream and Canned Heat first championed. Released through Citrus Records on the 20th of November 2020, the four-piece delivered their self-titled debut album.
Fronted by Chris Beltrame (Vocals/Guitar), the 10 track LP spans across the many emotions that come from varying stages of life, ranging from relationships to rebellions, striking a resonant chord with any listener. Churning behind the vocals are the blues-driven riffs and solos of Anthony Beltrame (Guitar), the groovy bass licks of Aidan Buckley (Bass) and the powerful drum playing of Harrison Leitch (Drums).
Saturday 23 January 2021.
Doors at 3.30 pm.
Super exclusive with only 35 tickets available!
Polly's kitchen will be serving up a full vegan menu available to order during the show.
Zen Monkee
Facebook
If the weather bails, Zen Monkee will play their Shout Out Show in The Tote bandroom. Rain hail or shine we got a gig! That's something to Shout Out about!
Covid-Safe event. Restrictions apply to keep customers, staff and performers safe. You can find advice and more information on current restrictions by visiting Arts and recreation services sector guidance.