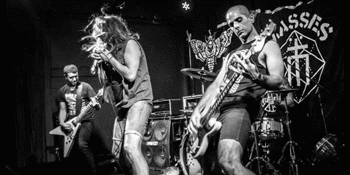 May Day Massacre
Extinct Exist + Sanctioned + Sepsis + Squashed Moth
The Tote - Band Room (Collingwood, VIC)
Saturday, 1 May 2021 8:00 pm
Melbourne's purveyors of crushing, bulldozer crust,
EXTINCT EXIST
, return for a May Day Massacre at The Tote on May 1. This staunch unit is putting out the feelers on the eve of a new release following a hellish covid lockdown, and are set to destroy Collingwood.
Duly supported by the all-out blasting antics of Melbourne Grindcore Syndicate kingpins,
SANCTIONED
, as well as the riotous, crust attack of, SEPSIS and the tormented, doom leanings of,
SQUASHED MOTH
, May 1 at The Tote is looking to be one that will go down as a highlight of 2021.
Extinct Exist, Sanctioned, Sepsis, Squashed Moth
Saturday 1 May, The Tote Bandroom
Presale tix $15+BF
Door tix $20