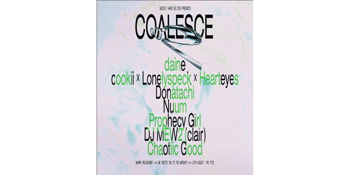 Coalesce 002
The Tote - Band Room (Collingwood, VIC)
Friday, 12 August 2022 8:00 pm
First up is daine, who needs absolutely no introduction. Their revered debut live set at Coalesce 001 has been written in scripture, a performance truly for the ages. Since then, daine has gone on to release their debut project Quantum Jumping, support their mentor Charli XCX for two shows in London, and recently, began their next chapter with singles 'Sleepwalking' / 'Dragging', working with Coalesce's Lonelyspeck and Hearteyes. Coalesce 002 will be a chance for daine to provide communion and consolidate their remarkable rise over the last 18 months.

Coalesce SUPERGROUP cookii + hearteyes + lonelyspeck will be taking to the pulpit for their first live appearance together. Since the release of their first collaborative stomper 'WEIRDO', they recently returned with their latest release 'METAL FLAKE' - a nu-metal anthem worth worshipping. The cornerstones of the label, all three artists have been influencing the sonic fabric of the Australian music landscape, and together they come together in August on a mission to answer your prayers.

Joining them will be hyperpop angel Donatachi, fresh off a run of sold out shows around the country. One of the artists on the forefront of the quickly growing scene in Australia, they have become known for slamming DJ sets and their work with artists like Slayyyter, Mallrat & Cowgirl Clue.

Nuum will be rounding out the bill with his emotionally fuelled pop music and unique sonic palette, blending digital and organic elements. With his debut EP due out later this year, Nuum is an artist very much on the rise.

Prophecy Girl, DJ MEW2 [clair] and Chaotic Good will be laying the foundation for the night with DJ sets.