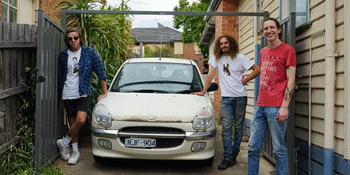 Kandalini Shout Out show
+ Polite Skeletons
The Tote (Collingwood, VIC)
Saturday, 13 March 2021 3:30 PM
After releasing smash hit singles 'A Song Called Pain' and 'A Lot Like You' in 2019 and 2020 respectively,
KANDALINI
are back to debut some new songs in preparation for an additional single to be followed by an EP.
Two new songs 'Wire Mother' and 'Dining Dead' are the band at their most dynamic and while heavily leaning into the sensibilities of their influences like Soundgarden and local heroes The Nation Blue, their most creative.
POLITE SKELETONS
will be opening the show with their proprietary brand of space-fi punk, hot off the back of the launch of their new single 'Screen Slave'.
If the weather bails, Kandalini will play their Shout Out Show in The Tote bandroom. Rain hail or shine we got a gig! That's something to Shout Out about!