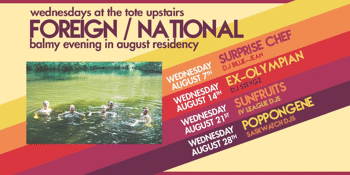 Foreign/National - August Upstairs
with Sunfruits & Ivy League DJs
The Tote - Upstairs (Collingwood, VIC)
Wednesday, 21 August 2019 8:00 pm
On Wednesday evenings in August, Foreign/National are unveiling new songs from their forthcoming second LP. Come on down to the The Tote Upstairs. Hear the new sound. Feel the balmy evening.

Wed 7 Aug: Surprise Chef & DJ Billie-Jean
Wed 14 Aug: Ex-Olympian & DJ Steygz
Wed 21 Aug: Sunfruits & IV League DJs
Wed 28 Aug: Poppongene & Dorsal Fins DJs

Doors $10 at 8pm, bands play at 9pm and 10pm.